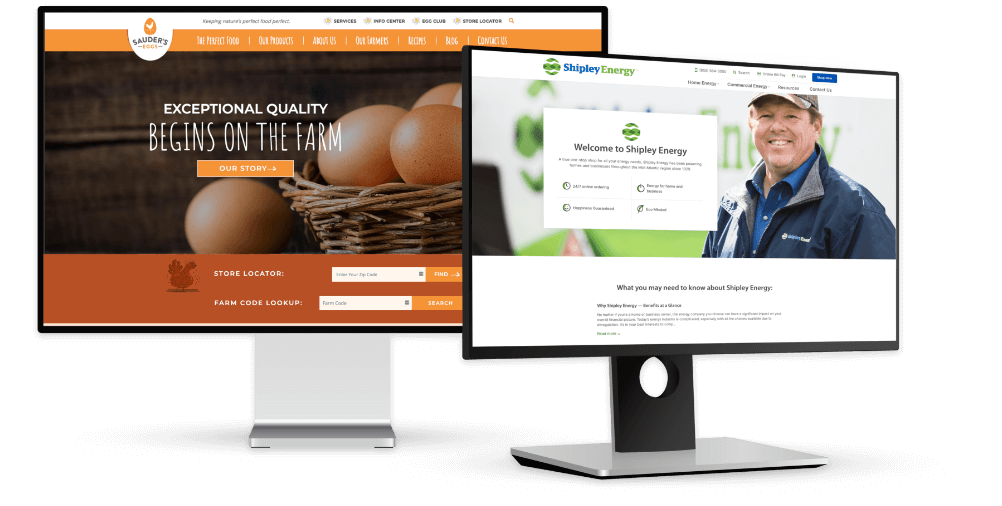 WHO IS WEBFX?
WebFX is a full-service web design, web development, and Internet marketing agency located right here in beautiful Harrisburg, PA. We offer modern design and marketing solutions for medium- to large-sized businesses located everywhere from the Susquehanna Valley to halfway around the world.
We currently employ more than 200 web design and development, SEO, social media, and content marketing experts, and WebFX is currently working to expand our national headquarters and create at least 80 new jobs.
Request a Free Quote
WHY IS WEBFX THE BEST WEB DESIGN COMPANY IN HARRISBURG?
OUR TEAM
One of the biggest reasons why we're the best choice? Our team.
We've assembled a group of some of the greatest minds in the industry, from dedicated, award-winning web designers to incredibly talented, passionate web developers. Our Internet marketing professionals are Google Analytics and Google Ads Certified, not to mention experts on everything from social media to SEO.
And we even have a dedicated copywriting team focused on producing the best content in the world.
The passion our team brings to their work, from designing websites to writing content, shows every day. As a client, you also get to work one-on-one with a dedicated account manager, ensuring that every detail of your website and digital marketing campaign matches your vision and goals.
OUR APPROACH TO WEB DESIGN
When you choose WebFX as your web design partner, you get a lot more than a beautiful new website (although you will definitely get that). When you choose us, you get a dedicated partner. We pride ourselves on being the team you can call for all your Internet marketing needs.
Whether you're interested in a mobile-friendly website that boosts conversions or the full package, we're always here to give you anything you need, answer all your questions, and provide advice you can trust to make intelligent decisions on the future of your marketing.
As your partner, we also keep you in-the-know. From discussing the latest standards for improving a website's usability to sharing the newest update on Google Ads, we make sure you're up-to-date on industry changes that impact your digital strategy.
OUR TECHNOLOGY
At WebFX, we feature some of the industry's leading technology. In fact, we developed the industry's leading software for return on investment (ROI) tracking, MarketingCloudFX — this is a feature-rich platform that's excellent for seeing the impact of your marketing investment.
Our web development and web design team are also behind RainmakerFX, which focuses on lead-driven website designs from templates. It's a service that's perfect if you're looking for a top-notch, professional website in 30 days or less.
With our technology, we provide our clients with unparalleled service, as well as data.
Via MarketingCloudFX, for example, you can see which calls to your business came from your website. Meanwhile, RainmakerFX includes your tracking code for Google Analytics, giving you immediate insight into your website's performance.
OUR RESULTS
Whether we're redesigning your website or revamping your digital marketing strategy, we're looking to drive real results for your business. That translates to in-store visits to your shop, quote requests from potential customers, and purchases to package and ship.
Our dedication to delivering Digital Marketing That Drives Results™ is why we've generated more than $1 billion in revenue for our clients — which is one reason why our clients see a 20 percent increase in their revenues, on average.
We've also generated more than three million leads for our clients, providing these small to midsized to large businesses the opportunity to expand their operations, reach new consumers, and create new jobs in their community.
The best part is you can see and track these results in real-time via MarketingCloudFX.
OUR EXPERIENCE
We bring more than 20 years of experience to web design and development, as well as digital marketing. In fact, when WebFX started, it was when websites encompassed only one page — a stark contrast to the dozens of webpages that sites feature now.
In the fast-moving industry of web design and digital marketing, however, it's critical to stay ahead of the latest trends and changes. That's why we're passionate about ongoing learning at WebFX. It's also why our team is experts in their fields and some of the best in the industry.
We're also happy to share our knowledge with clients. Whether you have questions about our approach to user experience testing or our strategy for a PPC campaign, we'll share with you the factors that influenced those decisions.
OUR TRANSPARENCY
At WebFX, we value transparency. That's why we publish our prices on our website. Whether you're looking for a website design, redesign, or landing page design, you can always find our rates online.
Even if you request a custom quote, our experienced strategists will explain every deliverable and its cost. By taking this approach, we ensure complete transparency and provide your company with the critical information it needs when choosing a web design or web development agency.
Our transparency also extends to our services. As a client, you can expect your dedicated account manager, as well as your MarketingCloudFX account, to provide you with the complete details on your website's status and performance.
OUR CLIENT HAPPINESS
Throughout our more than 20 years of history, WebFX has featured an unprecedented client satisfaction rate. That's why our client retention rate is more than 90 percent. Meanwhile, our client recommendation score is almost 500 percent higher than the industry average.
We've achieved — and maintained — such a high score by taking a unique approach to our web design, web development, and digital marketing services. Unlike other agencies, WebFX serves as an extension of your marketing team.
Here, we're more than a service provider, but a long-term partner to your company.
That's why we create personalized strategies for your business, bucking the tradition of cookie-cutter approaches. It's also why our team starts by learning your business, industry, and products before developing your website or digital marketing strategy.
Due to our innovative approach, we've become the leading performance-driven digital marketing agency for mid-sized business. We've also become the trusted partner for companies across the world, demonstrating that WebFX isn't your average digital marketing agency.
Discover The WebFX Difference
If you're looking for web design or web development services, WebFX is your trusted partner. With years of experience and a passionate award-winning team, we will deliver the website your company needs to excel in your marketplace.
Talk To Us
HARRISBURG WEBSITES WE'RE PROUD OF
Recognize any of these local businesses?
Knowledge Base
Learn about website design for your industry and get answers to common questions.
Learn More
Discover Our Web Design and Development Services